I got my first Covid-19 vaccine (Moderna) shot on April 16 and the second one last friday (May 14). If the vaccine is as effective as the trial (and all subsequent data since the trial) suggested, and I'm not an outlier, this means I have only a 5% chance of developing a symptomatic case of Covid-19 infection. I had no side effects other than injection site soreness after the first shot. After the second shot, I felt totally fine for the first few hours (did my normal bike ride to Bethesda, went out for a social event on Friday evening) but started feeling feverish and fatigued the next day. The fatigue grew worse later in the day. However after a good night sleep, I'm feeling fine today. Even did a short bike ride to Fletcher's cove and went kayaking.
In contrast to many developing countries in SE Asia and South America, the Covid situation is improving dramatically in the US. Nearly 40% of the population is full vaccinated. A couple of weeks ago, the CDC relaxed regulations on mask wearing in outdoor settings and on May 13th, they further updated the regulation in indoor settings as well. Now fully vaccinated people no longer need to wear a mask or physically distance in any setting, unless required to do so by state or local regulations. It was interesting to see how seriously Americans take CDC regulations. I noticed a distinct difference after the mask wearing relaxation. I see far fewer people wearing masks outdoors now. Conventional wisdom says that trust in government is at a low point (specially after the last 4 years of damage under Trump), but it is good to see that people still generally follow public health guidelines.
Last year, I opted into Capital One's FSA plan, meaning that I could contribute up to 3000$ (including a 1000$ company match) in health savings account that could be used for eligible health care expenses. To avoid leaving money on the table, I set my contribution to maximize the company match. However, later in the year I realized that amounts held in FSA accounts must be spent that year and only a small fraction can be rolled over into next year. I'm usually pretty healthy and hardly need to see a doctor. Around the middle of last year, I hadn't spent any money in my FSA account. I tried to lower my contributions but found that you can change your contributions only at the beginning of the enrollment period or for a qualifying life event (marriage, buying a house etc). A friend was telling me about how a podiatrist helped her deal with injuries related to ballet. I'm flat footed on my right foot, and my right foot sometimes start hurting after long hikes. So I figured seeing a podiatrist and getting a custom insert may be a good use of the FSA money. So I saw a podiatrist, got my foot scanned and a custom insert made. And what a difference it made in my quality of life. I can now do super long hikes with no foot pain at all.
I'm also an avid biker. In fact, biking helped me stay sane and deal with covid induced loneliness last year. Although I've been biking for many years, I never thought about getting bike shorts with butt paddings and getting the bike seat adjusted. Last year in September, I accompanied a friend to upstate New York for a triathlon. I brought along my bike as well and did a 30 mile lap around the bike course. I've done several 30 mile rides, but for some reason, my crotch and butt were in pain after this one. After finishing the triathalon, my friend took a look at my bike and diagnosed the problem right away. My bike seat was pointing slightly up instead of down. After we got back home, I adjusted the seat and also bought biking shorts with butt padding. My bike rides are so much more comfortable now. The seat adjustment took some trial and error to get just right – if the seat is tilting two far forward, then you tend to slip out of the seat and have to use your arms to push back. If it is tilted too far backward, the nose of the seat starts digging into the crotch and the inner thighs rub against the sides of the seat which is as uncomfortable as it sounds. So, the seat needs to be at just the right angle. I also got Apple airpods, and regularly listen to the Economist articles on my bike rides. It is the little things that matter! Specially those little things that you encounter regularly. Making them even slightly more comfortable can pay rich dividends in the long run.
I also went Salsa dancing for the first time since the pandemic yesterday. Someone on Facebook was organizing an outdoors Salsa event outside the Jefferson memorial. I thought I'd be super rusty after not having danced for more than a year since covid hit, but I remembered most of the moves in my repertoire. Muscle memory is quite a powerful thing! It was good to see many of the familiar faces on the DC salsa scene and some new ones.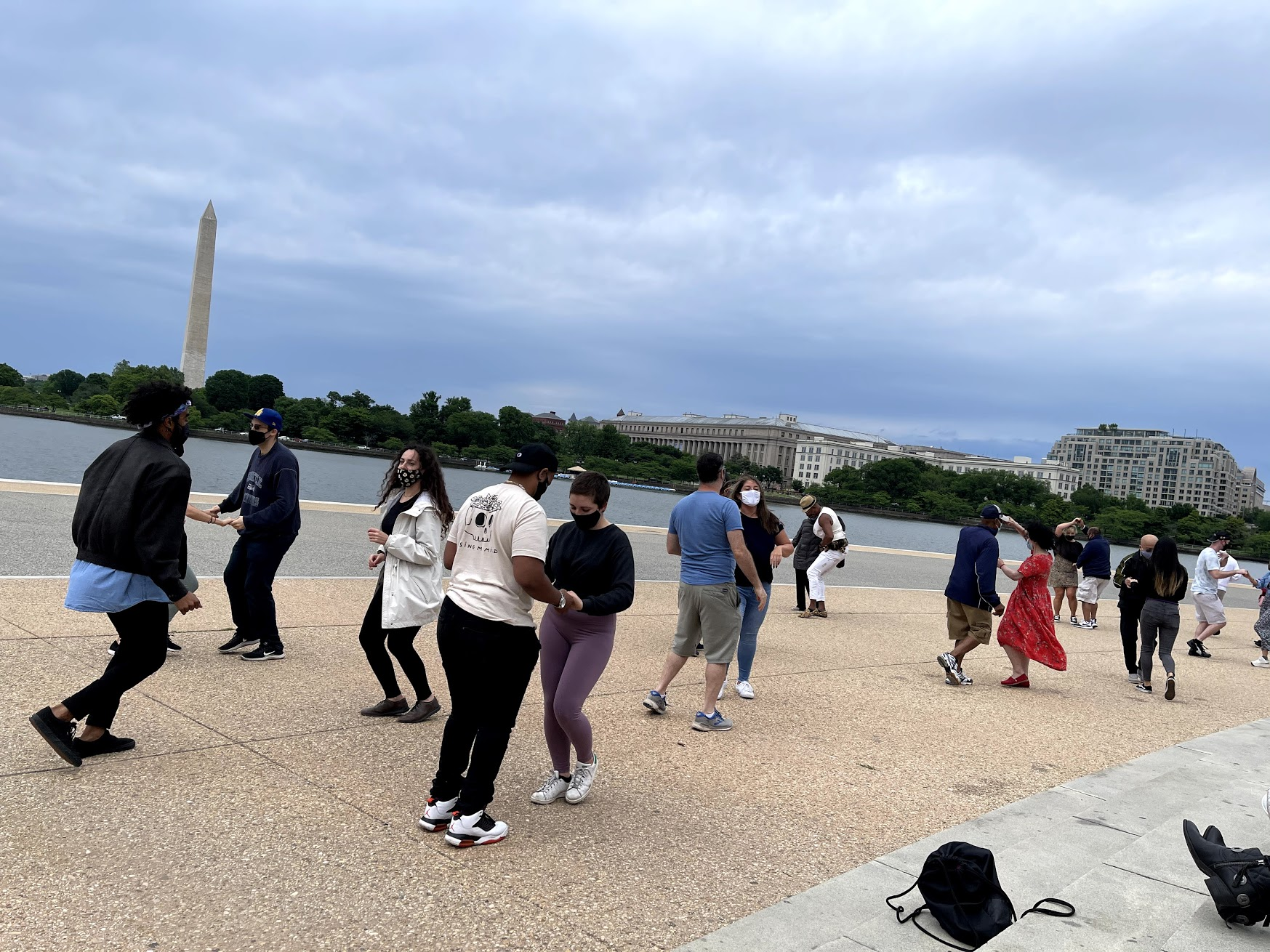 Update: 9:23PM, Aug 1 2021.
It has been several months now that I got fully vaccinated. The US made rapid strides vaccinating the population in the May/June/July resulting in a rapid decline in case counts and an even more rapid decline in death rate. Masking, indoor capacity and social distancing restrictions were progressively relaxed and life seemed to be getting back to normal. Salsa dancing events were back in full swing. To enforce social distancing and capacity restrictions in the building elevator, my apartment building had drawn a pair of shoe marks on opposite sides of the elevator as a cue that no more than two persons were allowed at a time and that they should stand on opposite sides of the elevator. It was heartening when those shoe marks were erased. Several major employers, including Capital One announced back-to-office plans. These plans ranged from fully remote for a majority of the workforce (Facebook) to a full return to office work (many New York investment banks). As was widely expected, Capital One announced a hybrid work policy with employees encouraged to work Tuesday/Wednesday/Thu from the office and Mon/Fri from home.
The pandemic is not quite ready to fade away though. In the last few weeks, a new variant first identified in India called the delta variant has been rapidly gaining ground. This variant is ~50% more transmissible than earlier variants and seems to cause more severe disease. This variant is resulting in a rapid increase in case count in countries where vaccination rates are low and also in countries such as the US and Europe where nearly 50% of the population is fully vaccinated. Restrictions are slowly being reintroduced and increased pressure is being placed on vaccine-resisters. The Biden administration will be requiring the federal workforce to be fully vaccinated or undergo frequent testing. Several private employers are considering making vaccination a requirement for return to work. I strongly favor a nation-wide vaccine mandate. Research indicates the Pfizer and Moderna vaccines continue to be highly effective against the delta variant (~85% effective) in preventing severe disease. However research also indicates that vaccinated individuals can get infected and carry nearly identical viral load to un-vaccinated individuals who get infected. This has prompted DC government to reintroduce indoor masking requirement, even though 56% of the population is fully vaccinated.